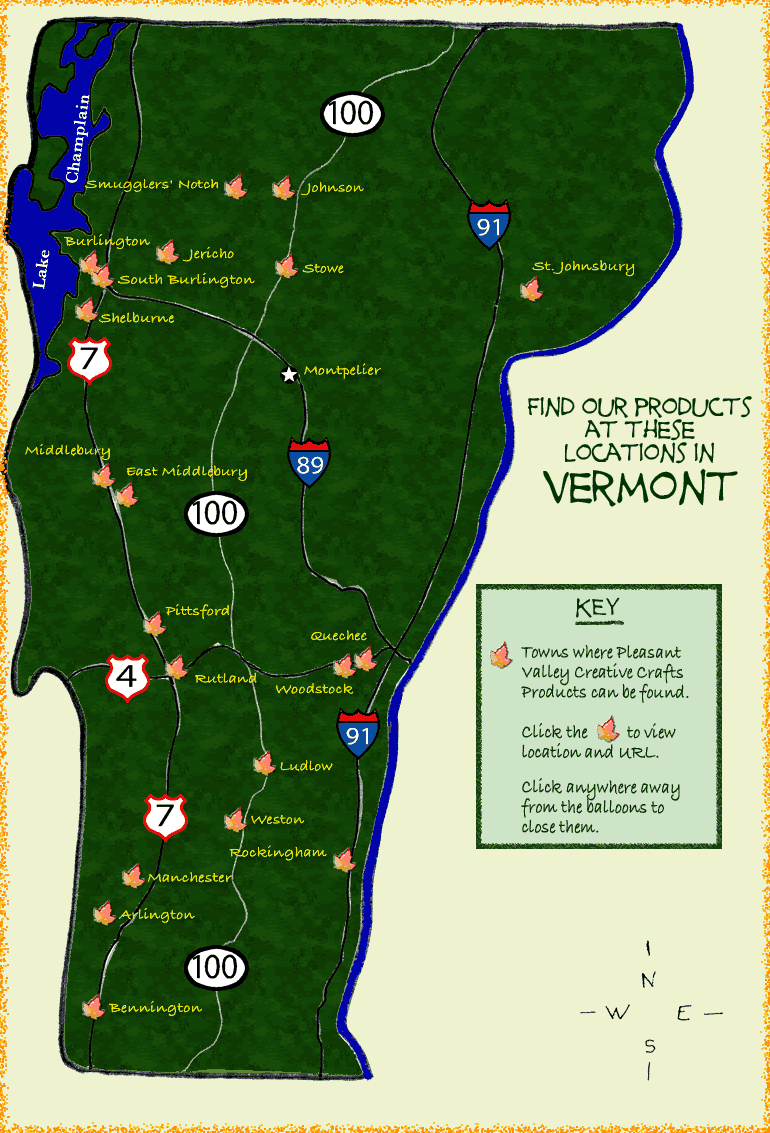 Find our Products at these locations in Vermont:
Arlington,Bennington, Burlington, East Middlebury, Jericho, Johnson, Ludlow, Manchester, Middlebury, Pittsford, Quechee, Rockingham, Rutland, South Burlington, Shelburne, Smuggler's Notch, St. Johnsbury, Stowe, Weston, Woodstock.
Key
Towns where Plesant Valley Creative Crafts Products can be found.
Click the leaf to view location and URL.
Click anywhere away from balloons to close them.
Arlington
The Cheese House
5187 Historic Rt 7A
Arlington, VT
Bennington
Bennington Battle Monument
15 Monument Circle
Bennington, VT
Burlington
Apple Mountain Gifts
30 Church Street
Burlington, VT

East Middlebury
The Field Farm
2571 Rt 7 South
East Middlebury, VT
www.thefieldfarm.com
Jericho
Old Mill Craft
VT RT 15
Jericho, VT
Johnson
Butternut Mt. Farm
31 Main Street
Johnson, VT

Ludlow
Blue Sky Trading Co
160 Main Street
Ludlow, VT
www.BlueSkyVt.com
Manchester
Hildene Gift Shop
1005 Hildene Road,
Manchester, VT
Middlebury
Middlebury Wood Products
1080 Rt 7 South
Middlebury, VT


Pittsford
New England Maple Museum
Rt 7 North,
Pittsford, VT
www.maplemuseum.com

Quechee
Laro's NE Specialties
5967 Woodstock Road
Quechee, VT
Quechee Gorge Gifts and Sportswear
6053 Woodstock Road
Quechee, VT
www.quecheegorgegifts.com

Rockingham
Vermont Country Store
Rt 103
Rockingham, VT
www.vermontcountrystore.com
Rutland
Truly Unique Gifts
1114 US Rt 4 East
Rutland, VT


Shelburne
Shelburne Museum
6000 Shelburne Road
Shelburne, VT
www.shelburnemuseum.org

Smugglers' Notch
Smugglers' Notch Country Store
4323 VT Rt 108
Smugglers' Notch, VT
www.smuggs.com

South Burlington
Vermont Gift Barn
1087 Williston Road
So Burlington, VT
www.vermontgiftbarn.com

Stowe
Stowe Mercantile
Depot Building
Main Street
Stowe, VT
www.stowemercantile.com
Vermont Heritage Gifts
48 South Main Street
Stowe, VT
St. Johnsbury
Uniquity
443 Railroad Street
Suite 2
St. Johnsbury, VT
Maple Grove Farms of Vermont Gift Shop
1006 Portland Street
St. Johnsbury, VT

Weston
Vermont Country Store
657 Main Street
Weston, VT
www.vermontcountrystore.com

Woodstock
Billings Farm Museum
River Road and RT 12
Woodstock, VT
www.billingsfarm.org
Clover Gift Shop
10 Elm Street
Woodstock, VT
Sugar Bush Farm
591 Sugar Bush Road
Woodstock, VT
www.sugarbushfarm.com